A lawyer was dragged online for choosing to represent his brother-in-law in divorce proceedings instead of his wife's sister—and then telling her that he wouldn't go through with the divorce because she was going to "lose a lot."
The lawyer's sister-in-law, u/redpanda891, shared her side of the story with the popular Reddit forum r/AmITheA**hole, earning over 20,700 upvotes and 2,600 comments for her post"[Am I the A**hole] for calling my sister's husband a piece of s**t because he's representing my ex in our divorce?"
The original poster (OP) says she asked for a divorce two months ago, and discovered a week later that her brother-in-law was going to represent her husband in the proceedings. She said that he'd helped her husband's career quite a bit, so she wasn't "completely surprised," but was "still hurt."
Though she's tried to avoid her brother-in-law given the upcoming divorce, her parents threw a family dinner recently. Throughout the dinner, however, she says her brother-in-law still referred to her regularly as her ex's "wife," but tension came to a head when he referenced the case.
"[He] told me that if he was me, he would stay married because I was going to lose a lot if I divorced my ex," u/redpanda891 wrote. "I ended up telling him he was a real piece of s**t in front of everybody, including his daughters.
"My sister got angry at me for saying that in front of her daughters but I was so mad I told her I didn't care because he was a bast**d so now she's p**sed at me," she added, asking if she was in the wrong.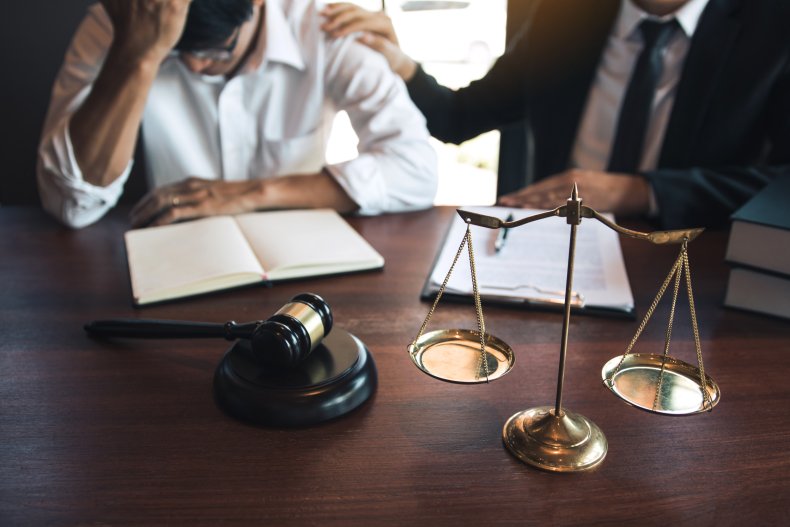 Divorce is often difficult, and Newsweek has run a number of stories about in-laws getting involved, including one about a bride-to-be saying her sister-in-law "had it coming" in regards to her divorce. Another story was about a woman who nearly divorced her husband over her sister-in-law making up a fake story about an affair.
However, a brother-in-law representing the ex of his wife's sister raises eyebrows. Newsweek reached out to Scott L. Cummings, the Robert Henigson Professor of Legal Ethics at UCLA, to see if this would be a conflict of interest. Cummings said that while it's a logical question, the issue would "really look at whether or not those relationships would impair [the lawyer's] ability to zealously represent" his brother-in-law.
Cummings said their relationship wouldn't necessarily disqualify him from representing his brother-in-law. Instead, he would need to make it clear to his client—the brother-in-law—that it "could look like a conflict of interest," and would need his consent to represent him knowing this. In this case, the brother-in-law obviously knew about this relationship and would have already given his consent.
However, Cummings says, the comment that the lawyer made about OP potentially losing a great deal was likely inappropriate, especially if she has legal representation, as her lawyer was not present at the family dinner.
"That comment sort of suggests that he's pressuring her to not get divorced… maybe pressuring her in a way that would relate to the resolution of the divorce proceedings, like she doesn't have a very good case," Cummings told Newsweek. "It's an ethical violation to communicate with a party a lawyer knows is represented without that party's lawyer present. That's an ethical violation on its own terms."
While there are many factors involved in the case that aren't revealed in the Reddit post, if there were to be any fallout from making such a comment during the dinner party, Cummings said it would come from the local bar association, rather than a judge.
"The judge doesn't rule on ethical infractions per se. The judge might say, 'Hey there, this is an ethical infraction, and I'm gonna refer you to the bar for sanctions.' Whether the bar would take it up for that one comment, you know, in light of all the stuff that the bar has to do, I'm not sure," he said. "In theory, there would be grounds to make a complaint in that scenario."
Redditors were surprised at the comment, and took the OP's side.
"[Not the A**hole]," u/ghostforest said in the top-rated comment with over 37,800 upvotes. "Your [brother-in-law] is an ass and if he didn't want his daughters to know that, he shouldn't have been an ass. Your sister should be ashamed."
"[Not the A**hole]. I can almost get past him being his lawyer if they're close but even that feels gross," u/Lemoneecrush wrote.
"On a personal note, to bring up the topic at a family dinner [is] incredibly insensitive and possibly intentionally cruel," u/Ok_Culture_3935. "I don't blame you for saying what you said."
Newsweek reached out to u/redpanda891 for comments. We could not verify the details of the case.
If you have a similar family dilemma, let us know via [email protected]. We can ask experts for advice, and your story could be featured on Newsweek.
Related Posts