Brazilian soccer star Neymar is currently on trial for fraud and corruption charges that prosecutors are hoping will result in a two-year prison sentence, but one lawyer claims that outcome to be unlikely.
In 2013, Neymar—whose full name is Neymar da Silva Santos Júnior—transferred from the Brazilian soccer club Santos to play for Barcelona, ​​before leaving in 2017 to play for his current team, Paris Saint-Germain. However, during the transfer from Santos to Barcelona, ​​a Brazilian investment firm called DIS claims that it owned a 40 percent stake in Neymar's rights while he was at Santos, which it did not receive upon the transfer.
The investment firm claims that Neymar and eight other parties are responsible for trying to hide the true amount of the transfer fee so they did not have to pay DIS the full amount. It is reported that DIS received $16.6 million as a transfer fee, but an investigative judge found that the transfer fee was at least $81.2 million.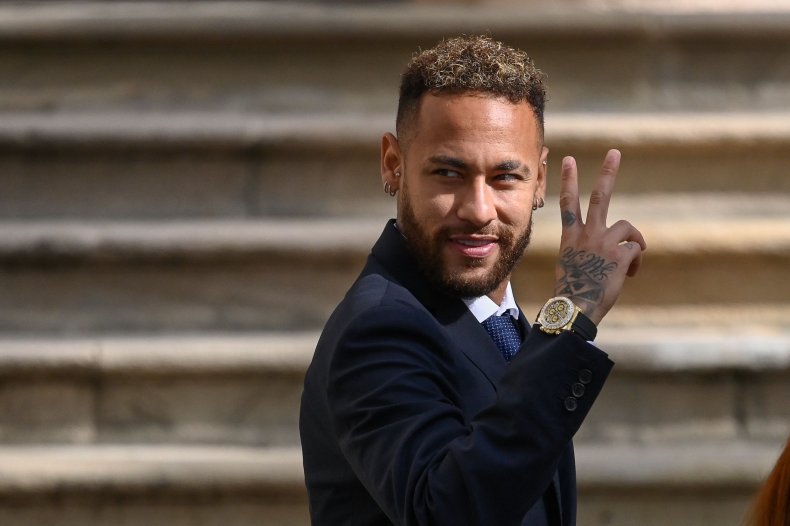 Neymar took the stand on Tuesday and tested that he took no part in the negotiations over his transfer to Barcelona, ​​and the other defendants have all denied any wrongdoing, claiming that the accusations do not apply to the Spanish court, as all the operations happened in Brazil where "corruption in business" is not classified as a crime. Neymar also tested that his father, who acted also as his manager, handled the contracts.
Now, the soccer player and eight others, including Neymar's parents, former Barcelona presidents Josep Maria Bartomeu and Sandro Rosell and other representatives from Barcelona and Santos, are all facing a trial and prison sentences.
DIS has asked for Neymar, his father, Rosell and Bartomeu to be jailed for five years, as well as asking Neymar and his father to pay at least €10m (about $9.8 million USD) in fines as compensation. They have also requested that Neymar be suspended from playing soccer for five years.
Despite the hefty fine and threatened jail time, one attorney thinks it is highly unlikely that Neymar will actually serve a prison sentence. Isaac Abad of Spain-based Abad & Associates Lawyers and Accountants told Newsweek"I think that it's highly possible that Neymar will be condemned…I think that it's very, very, very improbable that he will be going to jail."
Because Neymar merely signed the contracts and perhaps can use the argument that he was not aware of all that the contracts entailed, he could get out of a sentence, Abad explained.
"It's a football player and he's saying that he didn't know what he was doing, that he was just signing and signing and signing…perhaps the court could just condemn the father [or] the administrator of the company…obviously, they knew everything [that] was going on," Abad said.
"It's hard to read all the contracts that they sign and understand all the payment[s] that they were doing…So it's something that will be possible, that he [Neymar] will be declared not guilty. We'll see," said Abad.
Related Posts